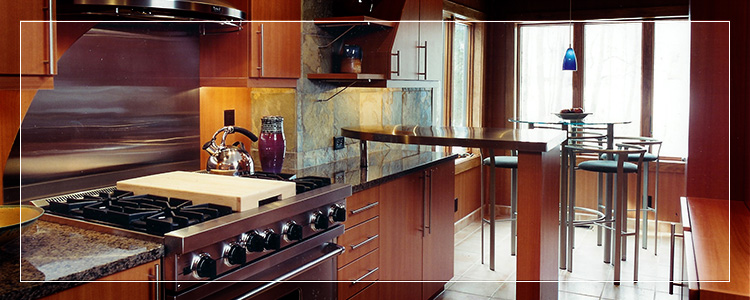 At Marinich Builders we specialize in complete kitchen transformations which include new cabinetry, counter top, backsplash, lighting, and more. Many of our remodeled kitchens include dramatic floor plan remodels where dividing walls are removed. If your kitchen is ready for a complete overhaul or you are ready to replace your cabinets and counters, let us guide you through the process.
Process
We guide you through the process from start to finish and you will love every minute it!
Our process is flexible, but here are the main stages:
Initial consultation at your home with all decision makers
Detailed proposal presentation in our office
Final selections and pre-construction
Quality and conscientious implementation
3D Cad
We use 3D Cad to help you visualize your new kitchen. Our experienced design staff will walk you through the design of your new kitchen.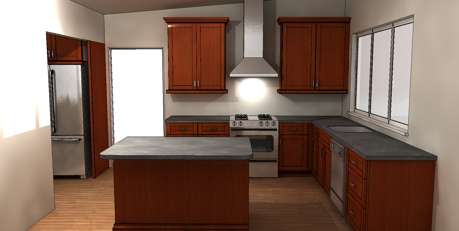 Islands
Islands in a kitchen is a popular design element. They are an excellent place for food preparation, to interact with guests when entertaining and a spot to teach your children how to cook. We can help you design your island and work with you on the space needed to make it happen.
Appliances
Marinich Builders installs appliances in all our kitchen projects. We are happy to install the appliances that you choose from your favorite appliance retailer. We will also give you general advice on which kind of appliances will best fit your needs. We run the necessary electrical and gas as required should you decide to move the location of your appliances or add new. appliances.
Our skilled craftsmen take great pride in our ability to install trim. Whether its crown molding, chair rail, under cabinet light rail molding or baseboard, we can implement the level of detail that you are looking for. 
Removing Walls
When it comes to kitchen remodeling that requires removing walls, our expert staff can walk you through the options. We can help you identify whether a wall is load bearing or non load bearing and design the proper way to deal with changes to your home structure. Often times when interior walls are moved not only is the structural integrity of the home important, but also there are heat runs, electrical and plumbing that need to be moved.
Marinich Builders will walk you through the popular options for kitchen flooring in our area. We are expert in patching and refinishing hardwood floors as well as installing tile and other options.
It's Easy
We make it easy because we listen to your needs and design your new kitchen for what you want while avoiding mistakes. It can be overwhelming to research a kitchen project given the vast amount of various products, manufacturers, information to sort through to make an informed decision. Our experienced staff will help funnel this information and use products and design that are popular in our area with our customers. We can do this because all of our work is in house so the information flows smoothly and efficiently from design to selection to construction to completion.
Duration of Project
Not every kitchen remodel takes the same amount of time. It takes an average of 4 to 8 weeks to completely remodel a small to medium sized kitchen from start to completion. Larger kitchen remodels, kitchen remodels that include structural changes, or a kitchen addition have longer durations. Kitchen remodeling is a major disruption to everyday living at your home. That is why it is important to remodel with pro like Marinich Builders who will efficiently complete your kitchen renovation in an efficient manner. 
Countertops
Marinich Builders will help with the selection of the countertops for your kitchen remodel. With respect to cost, value and the latest trends. We can remodel your kitchen with quartz, butcherblock, laminate, granite, marble and etc. We are a dealer for Cambria quartz countertops.
Promotional Payment Options with Cambria. Click here to learn how you can finance up to $75,000 of your kitchen project with Finance by Cambria.
We will help you select the backsplash that meets your needs based on durability, ease of maintenance and esthetics. We specialize in tile blacksplash installation. We use a special grout additive to minimize maintenance and improve stain resistance. 
I want to thank you and your workers for the fine job done on my kitchen. While this may have been a small job for your company, it was a major investment for me and one which I had long put off, unsure who to trust with my home and money. Your attention to planning, detail and quality was reassuring and heartening. Your workers were timely, industrious, neat, and eager to please. I always know what to expect and when, making it much easier to adjust to the necessary household disruption.

To put it simply, I am delighted with the results. The layout is terrific and the features are more than I hoped for within such a small work area. The neighbors who have monitored the progress from demolition to creation have been very impressed. I'll happily recommend your work to anyone.
Are you ready for a new kitchen?