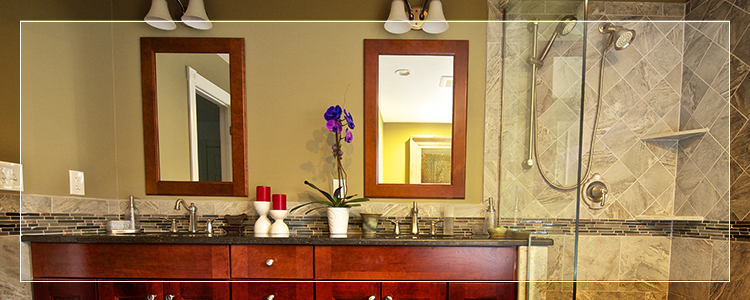 Bathroom Remodeling
Does your bathroom need a total overhaul? If so, you are in the right place. We specialize in completely renovating the bathroom, not just covering the problem up. We remove all of your old fixtures, flooring, lighting, and accessories. We will even remove your floor and wall covering to the "bones" when needed so your project is done the right way.
Design
Do you want to change the layout of your bathroom? Do you want a larger shower? We will walk you through the possibilities. We use computerized 3D Cad to help you visualize the new space. We have the experience to recommend the right products in the right space to create the best solution for your remodel.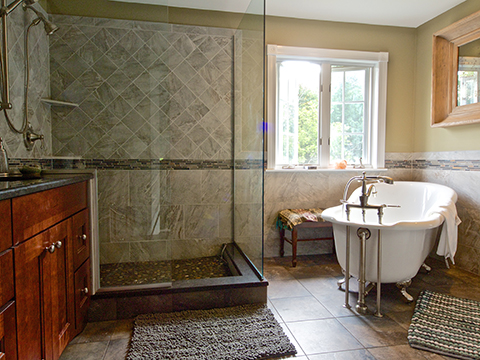 Implementation
Our bathroom remodels are installed by our team of highly experienced in-house carpentry staff assisted by highly skilled tradesmen in a few select areas. This means that there will be continuous progress on your bath remodel and not waiting around for a sub to show up. Our reliable and skilled staff maintain a higher level of consistency and quality on your bathroom renovation.
Process
We guide you through the process from start to finish and you will love every minute it!
Our process is flexible, but here are the main steps:
Initial consultation at your home with all decision makers
Detailed proposal presentation in our office
Final selections and pre-construction
Quality and conscientious implementation
Bathroom Products and Fixtures
We incorporate popular quality brand name products like Kohler, Moen, Panasonic, Cambria Quartz, and Benjamin Moore. Many of our bathrooms include quality products like porcelain tile, walk-in showers, and frameless glass. We use products that have a long standing reputation of quality. We recommend products that are lower maintenance and high quality so you can enjoy your new bathroom for years. 
Marinich Builders installs vanities, mirrors, medicine cabinets, toilet toppers, open shelving, laundry hamper, storage cabinetry and more. We help you select cabinetry based on the look you are trying to achieve influenced by current style and design.
Vanity Tops and Stone
Many of our customers select Cambria quartz vanity tops for their bathroom. We know of no vanity top that is as easy to clean, low-maintenance, and durable as Cambria quartz. It is harder and less susceptible to cracking than granite. There are roughly 165 designs to choose from, so you can find a beautiful Cambria that makes your design come alive. If Cambria quartz isn't for you, Marinich Builders will help you find the best solution from several other options.
Promotional Payment Options with Cambria. Click here to learn how you can finance up to $75,000 of your bathroom project with Finance by Cambria.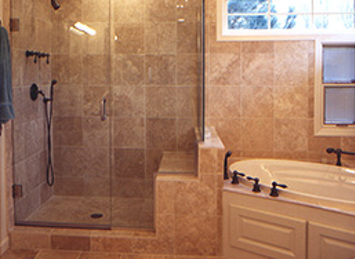 The tile you select plays a large role in the overall look and feel of your bathroom renovations. We help you choose what tile to install from material, color, and size and where to install the tile floors, shower walls, shower floor, or on bathroom walls. We install different patterns like popular subway tile installations to more elaborate patterns and accents. We use the latest installation techniques and products for a durable, high quality installation that is easier to maintain. 
Shower Glass
We will walk you through the shower glass options. On many bathroom remodels, our customers love to install frameless glass shower enclosures. This high-quality approach enables a more open feel to the bathroom which enhances the sense of space and light. This can provide a dramatic improvement in the overall quality of the bathroom remodel. Marinich Builders offers other shower glass options as well so you can find the right solution for your bathroom remodel.
Showering Options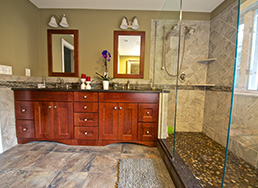 Marinich Builders will consult with you to develop the right showering options for your bathroom remodel. You might select a standard high quality shower valve and shower head or a complete thermostatic valve with body sprays, rain showers, and a handheld. There are several options and we will help you find the right option to meet your goals.
Lighting
Bathroom lighting has a significant impact on the overall quality of the finished bathroom remodel. Marinich Builders offers the flexibility of designing a lighting package that best meets your goals for the remodel. With the advent and proliferation of LED light fixtures we are able to offer new options that help solve some problems our customers face in our homes in CNY.
Bath Fans
We recommend that our customers have a bath fan in their bathroom to help control moisture in the bathroom. We utilize Panasonic or FanTech fans that are properly sized with the appropriate sound levels. Marinich Builders will make sure that the bath fan is vented properly outside of your home to avoid problems in the attic, roof, or soffit.
Remodel Duration
A complete bathroom remodel of a standard sized 3 fixture bathroom will typically take between 10 and 15 business days. Larger bathrooms and bathroom remodels with extensive tiling usually takes 15 to 25 business days.  We strive for efficiency and quality as we complete your  transformation in a reasonable amount of time. If you have worked with a company that will take their time and not be done in an efficient manner it can be very frustrating. The overall duration of your remodel is dependent on which products you select, if you are moving fixture locations, and the size of your remodel. Construction in your home is disruptive to your daily life. We take a number of actions to make this easier on you and your family.
Allowances
We provide allowances on the products and materials you select which affords you a better understanding of how much the project will cost while enabling you to pick out selections of higher or lower costs along the way. If you fall in love with a faucet that costs extra than the allowance you know how that will effect the overall cost of the project. 
Our Process is Easy
Bathrooms are complicated and there are thousands and thousands of options. Marinich Builders simplifies the process by offering you products and selections throughout the design process that are low-maintenance, popular in our area, and high quality. By utilizing our experience of remodeling hundreds of bathrooms right here in Onondaga County, we streamline the selection process and make it easy. By the end of our second meeting, we often have a build-able project. You can tweak the suggested selections or make whole sale changes to the design and product selection at this point.
Pre-Construction Conference
At the pre-construction conference we will review the entire project with you right down to the details. Also, we will have a discussion of IMPACT items or ways that we can best interact with you while working in your home. We will discuss our Clean-in plan and how we will implement floor protection and help mitigate dust migration.