Marinich Builders specializes in complete kitchen and bath remodels which typically include the important selection of counter tops. We will help you select the correct counter top for your renovation. Marinich Builders has American made Cambria quartz counter tops on display in our office selection center to help with design process. We are happy to offer other counter top solutions in addition to Cambria to meet your needs such as granite, soapstone, marble, butcher block, and laminate.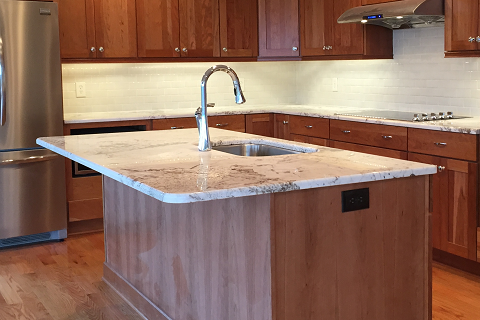 For years granite was the most popular selection for kitchen counter tops by our clients. Recently, we have noticed that Cambria quartz has become the most popular choice due to the substantial increase in the number of attractive options. Historically, quartz was limited to sterile, "boring", and generic patterns. Now, Cambria quartz boasts 165 different designs that have natural attractive movement without all of the headaches associated with marble, granite, soapstone, or other natural counter tops.
Promotional Payment Options with Cambria. Click here to learn how you can finance up to $75,000 of your kitchen or bath project with Finance by Cambria.